Resurrection Faith Outfitters equips children and their families to participate in a vibrant life of faith wherever they live, work, play and learn. A vibrant life of faith that creates more love, more joy, more peace, more patience, more kindness, more generosity, more faithfulness, more gentleness and more self control.  (Galatians 5:22-23)
We do this through learning opportunities, celebrating milestones, serving the community, and camps.  For more information, contact Marie Baker, Director of Children and Family Ministry.
Camps and Retreats
Options range from our Vacation Bible Adventure to offsite summer camps for students in 2nd through 12th grade.
Sunday School on Zoom
Families with children in Preschool-5th grade can join Faith Outfitters on Zoom at 9:30am before the Resurrection Youtube Worship Premier on Sunday mornings. We will check-in with each other, read the Bible, and do activities related to the Bible story.  Come with your Bible (Spark story Bibles or whichever translation you would prefer), paper and drawing/coloring utensils.  Please contact Marie Baker for the Zoom meeting id. 
Children's Ministry Registration
We are offering opportunities for online learning, in-person events for families to participate in together (with precautions), activities to help children engage in weekly worship with their families, and resources for faith at home.   Register here.
Guided Hands Puppet Ministry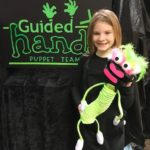 Guided Hands is a ministry of drama, music, and puppetry, for youth in grades 5-12, with adult involvement opportunities. Check back soon for details for the 2020-21 school year. Watch a video about compassion here. To ask questions or get involved contact Micki Fredin.
Milestone Events
Walk with your child/children through faith milestones. We offer several half-day workshops for parents and children including communion preparation, Bible exploration, and much more. See "current events" above for details or to register, as events are being postponed or rescheduled in response to the coronavirus pandemic.
Milestone Events List
Prayers & PJs – January
Families with children in Kindergarten-Fifth grade learn about prayer through activity stations and resources for integrating prayer into life at home
Trek to the Table – March
Spring parent-child workshop for 3rd-4th graders before receiving first communion
SPARK Bible Presentation – September
Gift of a preschool story Bible to families with 3-5 year old children
Bible Expedition – Fall (Bible Expedition II ~ Winter)
Fun parent-child evening of activity stations to learn about and explore the Bible
ADVENTure – First Sunday of Advent
Crafts and devotional time to help children observe Advent at home