As faith Outfitters, we strive to equip children with friends in God's family, adventures in God's word, images of God's love, trust in God's promises, and hearts and hands for God's world.
Children and family ministry includes Sunday School, faith milestones, summer camps and family-friendly service options. For information, contact Marie Baker at mbaker@liveresurrection.org.
Children and Family Current Events
Compassion Camp
Join us for a virtual Vacation Bible School Wednesdays in July. Learn more
Resurrection Staff and Members share Bible Stories on Youtube
Guided Hands Puppet Ministry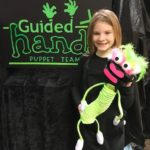 Guided Hands is an ongoing ministry of drama, music, and puppetry, for youth in grades 5-12, with adult involvement opportunities. Participants lead Sunday School on a regular basis, perform at area nursing homes, and offer engaging educational outreach within, and beyond Resurrection. To learn more or get involved contact Micki Fredin.
Sunday School Registration
Sunday School programming is offered for children 3 years through grade 5 on Sunday mornings at both the 9 am and 10:30 am worship hours.  Registration materials are available at church or register here.
Camps and Retreats
Options range from our Vacation Bible Adventure and 4-Square day camp to offsite weekend and weeklong summer camps for students (2nd through 12th grade), families and intergenerational groups.
Summer 2020 Opportunities
Compassion Camp 2020 - Wednesdays in July for preschool thru grade 5 (learn more) 
Wapo Family Devotions available here 

Cancelled: All Wapo Camps for Summer 2020

Camp WAPO Family Camp ~ June 5-7 and August 14-16 

Wilderness Canoe Base Family Camp - July 9-12

Wapo One Day ~ August 5

SEEDS Weekend at WAPO ~ July 31-August 2

Youth Camp at WAPO ~ August 2-August 7

Please contact Camp Wapo

if you were registered for camp and have not received an email about the cancellations this Summer
Milestone Events
Walk with your child/children through faith milestones. We offer several half-day workshops for parents and children including communion preparation, Bible exploration, and much more. See "current events" above for details or to register, as events are being postponed or rescheduled in response to the coronavirus pandemic.
Milestone Events List
Prayers & PJs – January
K-2nd grade children, with a parent, enjoy a few prayer stations and take home a new SPARK Psalm book
Trek to the Table – March
Spring parent-child workshop for 3rd-4th graders before receiving first communion
SPARK Bible Presentation – Spring
Gift of a preschool story Bible to families with 3-5 year olds
Hunt for Easter – Spring
Area scavenger hunt, to member homes, for families to work through the stories of Holy Week
Bible Expedition ~ November (Bible Expedition II ~ Winter)
Fun parent-child evening of learning stations, finishing with 3rd-4th graders selecting a new Bible
ADVENTure ~ First Sunday of Advent
Family dinner, crafts, and devotional time to help children observe Advent at home